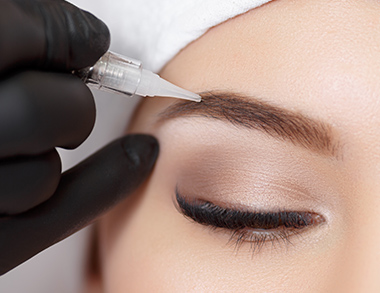 The aim is to achieve The Perfect Brows for you.
There are a number of methods and these will be discussed in your consultation which usually takes place on your first appointment prior to the procedure. We are all individuals and have different ideas of what we want. Regardless of your current brow shape, hair, lack of hair, no hair, I can create beautiful symmetry in a perfect colour to suit you.
All eyebrow treatments take into account the shape of your face, your skin tone, hair and eye colour. I can create a natural realistic look with an individual hair by hair method or a bolder look. The choice is yours and I'm here to advise.
Eyebrows are the most transformative feature on the face because they frame your eyes, determine expression and when done properly can make you instantly more beautiful. Eyebrows that have been over plucked, thinned or have started to droop with age we can give you an arch or lift and give you the eyebrows you once had when you were younger and dramatically turn back the clock and instantly make you look 5-10 years younger.
Microbladed Eyebrows
A technique for superfine hairstrokes achieved with a micro-blade again done by hair by individual hair in the colours chosen to suit your colouring.
Ombré Eyebrows
For the shaded fuller eyebrow effect. More of a fashion statement and 'made up' look. Beautiful colour of your choice is blended in the eyebrow area giving symmetry and lovely statement brows.